Kit Schweppes 6 glasses + 1 barmat

-

Schweppes

- Price :

59.90

€ - Stock : In Stock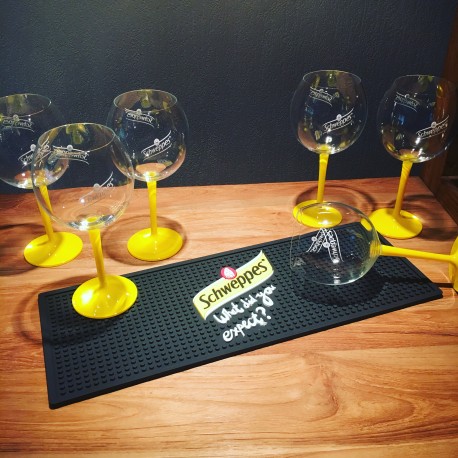  
Kit Schweppes 6 glasses + 1 barmat
Are you also looking for these new Schweppes glasses? Discover here this beautiful Schweppes kit in very limited quantity! Isn't it the perfect Christmas gift?

The set consists of a collector barmat and 6 Schweppes stemglasses with a yellow base.

Delivery policy
The barmat is made of black rubber and has a Schweppes logo in the middle. Under the logo is written in white: "What did you expect?", the famous slogan of the brand. This barmat is a beautiful decorative object, but it is also very useful. You will notice at the first use that it collects well spilled liquids and that you can clean it very easily.
For cleaning, simply place it under cold water and let it dry.

Schweppes stemware is popular. They have an ideal capacity for preparing and tasting your cocktails.

Have you already tested the Schweppes Premium? Once tried, you will definitely put these drinks in your favorites and your guests will ask for more.
We have tried some cocktails recepts (You can find them on the page of the Schweppes glasses). But also make it easy, just put 3cl Rum or Gin in you glass and pour your favourite Schweppes Premium