Plateau Bacardi Fuego + 7 shooters + Fuego Barmat

-

Bacardi

- Price :

44.90

€ - Stock : In Stock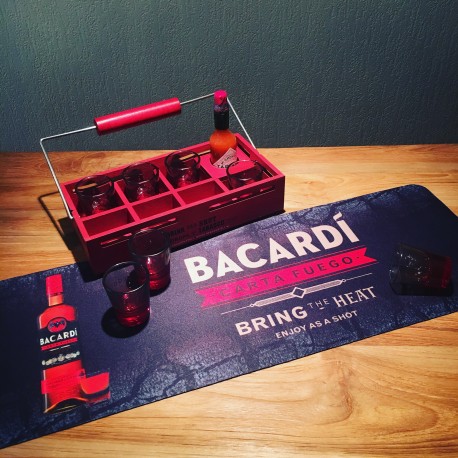  
Plateau Bacardi Fuego + 7 shooters + Fuego Barmat
Wanna get something special for you party? Try the new spicy Bacardi Rum Fuego with your friends.

You're not afraid of a spicy drink? Test your shot of Bacardi Fuego with 3 drops of Tabasco.
(more details below)

Delivery policy
This kit consists of a Fuego barmat, a wooden Fuego tray and 7 shots. Glasses can be bought separately if you want more.

The barmat is very large compared to other barmats of the brand. It is black and measures 60 cm by 21.5 cm. The bottom represents a forest in the dark.

On the left side of the barmat, you can see a Fuego bottle with a shot. On the right, you will read : "Bacardi - Carta Fuego - Bring the heat - Enjoy as shot" written.

The plateau is intended for 7 shots and a Tabasco bottle. He makes it possible to transport your shots quickly and easily, but more than that ... this is an unusual object that will attract the attention of your friends.

The glasses and plateau are red. On the smallest side, a logo and the word "Bacardi" are written in gold letters. Just below is "Fuego" written on a black background.

On the other side is noted: "Drink as a shot - Try with 3 drops of Tabasco sauce - live passionately. Drink responsibly".
The Tabasco bottle is not included.