Big Bottle bucket Champagne Piper-Heidsieck Jaime Hayon XL

-

Piper Heidsieck

- Price :

299.90

€ - Stock : In Stock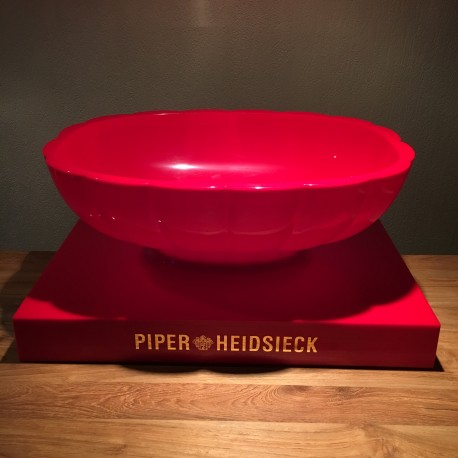  
Big Bottle bucket Champagne Piper-Heidsieck Jaime Hayon XL
This big Piper Heidsieck Champagne Bucket is majestic. He can be placed on your table as well as a bar or wedding table.
See below for more info

Delivery policy
These buckets were produced in 2006. The Piper-Heidsieck brand was looking for an object that would be both functional and elegant.
They appealed to Jaime Hayon for his creative and imaginative side to create Piper Heidsieck products whose main thought would be their "Extravagance".
Piper Heidsieck describes the personality of his brand with the words "sophistication and creativity", which is reflected in an item like this one. The bucket is a beautiful alliance between the contemporary and the old. The bucket has large dimensions, allowing you to put till 5 bottles inside at the same time.
It is made of very strong red plastic. The base is signed "Jaime Hayon for Piper Heidsieck" written in golden letters. On the base is written in big gold letters "Piper Heidsieck".
Dimensions:
Width approx.: 52 cm
Height approx.: 24 cm
Depth approx. 37,8 cm
Weight approx.: 4.2 kg
(Delivery without bottle)